Custom Urethane Molding - Products & Services
For more than 60 years, C.U.E. has provided custom molded urethane products and services. This is experience that no one else can match.

C.U.E. employs an experienced staff of mechanical, chemical, and industrial engineers to take you from idea to market. From product design (chemical and mechanical), to mold design (and production), to effient, custom urethane molding work cells, C.U.E. gets you results.

Listed below are just a few of the many urethane molding capabilites in which C.U.E. excels. Let C.U.E. put its experience to work for you.
Polyurethane Net Shape Parts – Value added to save you money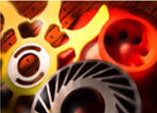 Many urethane users purchase raw forms such as bars, sheets and rods, to machine to their final required shape. This process can be very costly in both machining time and material waste.
C.U.E.'s Engineering staff will design molds for net-shape, or near-net-shape parts to minimize waste and maximize production efficiency.
---
Bonding Urethane to Metal Inserts – Permanent adhesion to metal components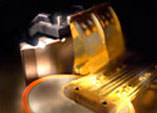 The versatility of C.U.E. urethanes is evidenced in our ability to bond them to a wide variety of metal sub-surfaces. On a daily basis, C.U.E. is employing the latest technologies in metal insert preparation for bonding. We routinely bond to, encapsulate within, and cover the aluminum, brass, and steel component inserts that comprise our customers' finished parts.
In many cases, we can help you design several individual components into a single, more effective unit, often at a lower cost. For most urethane and metal assemblies, C.U.E. is able to source the metal inserts for you to provide a complete 'one stop' source for your finished part.
---
Dual-Durometer Polyurethane Parts – Multi-compound molding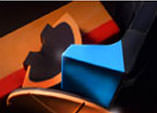 The blending of two different polyurethane compounds into one integrally molded part is a distinct advantage in many applications. Part chemical science and part manufacturing expertise, the production of such dual-durometer parts is another C.U.E. specialty.
Depending on your application, a hard, rigid compound may be cast as the support structure, with a softer compound providing the working surface. Accomplishing a strong, durable bond between the two materials requires special attention to the mating surfaces. This is another area of C.U.E. expertise on which you can rely.
---
Microcellular Urethane Foam
Custom shapes for dynamic applications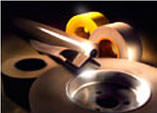 C.U.E.'s unique closed-cell urethane foam is the ideal choice in applications that require a very tough, yet soft and lightweight, material. Extremely durable, microcellular urethane foam is generally molded to densities in the range of 28-50 pounds per cubic foot. Typically, these lower densities yield a part that weighs 25-65% less than a solid cast part.
C.U.E. is a proven expert in the field of highly dynamic applications such as frictional material transfer parts and "no crush" rollers. Give us a call when you need a tough part with a soft touch.
For more information about C.U.E.'s Custom Urethane / Products & Services call 800-283-4621 or click to contact us.