Hardliner® Urethane Crossover Pads & Ramps

Hardliner® Urethane Crossover Pads & Ramps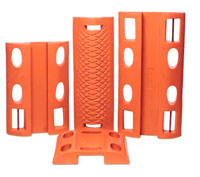 C.U.E.'s Ramps / Pads are designed to handle the heaviest of traffic encountered in mining and construction areas.  They are made from high grade polyurethane that can withstand the loads of heavy machinery without crushing and tearing.
Mining and construction sites experience punishing traffic from trucks and heavy equipment. Protecting electrical cables, hoses, and lines from being crushed requires a durable crossover pad or ramp that can handle the weight, impact and abrasion of this type of traffic. Hardliner crossover pads and ramps provide the necessary strength and durability to protect important cables and hoses from damage.
Hardliner crossover pads and ramps offer beneficial design features and come in variety of widths and lengths.
ADVANTAGES
- Orange color for high visibility


- Lightweight, easy to handle


- Hand holes make them easy to carry or move


- Grooved models for added traction


- Different Styles to lay under or over your lines


- Can be used with hose as well as power cables


- High grade C.U.E. polyurethane
For more information about C.U.E.'s Hardliner Crossover Pads & Ramps call 800-283-4621 or click to contact us.