Hardliner® Polyurethane Sheets

Hardliner® Polyurethane Sheets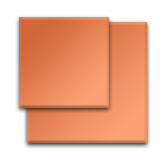 Hardliner polyurethane sheets were developed to battle the forces of impact and abrasive wear in ore and aggregate mining/handling operations, and coal preparation plants. The sheets are both lightweight and flexible, which makes for easy installation without the use of special lifting, or heavy, equipment.
Hardliner sheets are made using a superior grade of Polyurethane, specifically formulated by C.U.E., Inc. to provide exceptional resistance to abrasion and corrosion, as well as the wear and tear resulting from impact. This Polyurethane compound possesses remarkable resistance to thermal shock - the ability to withstand sudden and drastic temperature changes without cracking. In addition HARDLINER sheets have been approved by the Mine Safety and Health Administration (MSHA No. IC-143/4) for underground mine use.
Hardliner sheets are available in a wide range of sizes, in stock widths (4 and 5 feet) and lengths (8,10 and 12 feet), and thickness from 1/4" up.  Additional sheet sizes and thicknesses may be custom ordered.
POLYURETHANE SHEETS - TYPICAL USES
Hardliner sheets are ideally suited for lining applications in:
- BINS
- TANKS
- HOPPERS
- CHUTES & LAUNDERS
- FLOTATION CELLS
- TRUCK BEDS


They can also be used in belt scraper, belt skirting, filter scraper, chain guide, and paddle type applications. HARDLINER sheets can be utilized in virtually any area that experiences abrasive - and impact - wear problems.
This same Hardliner Polyurethane compound can also be custom molded for you by C.U.E., Inc. into specialized wear resistant component parts.

GIVING YOU THE EDGE
Competitively priced Hardliner polyurethane sheets offer a service life of up to FOUR times that of UHMW- Polyethylene up to TEN times that of mild steel!
This long-life translates into less downtime for repairs and maintenance, which leads to higher profitability.

HARDLINER POLYURETHANE SHEET ADVANTAGES:
Superior abrasion and corrosion resistance
Exceptional impact absorbing properties
Superior cut- and tear- resistance
Outstanding resistance to most oils, greases, and solvents
Lightweight 1/7th the weight of steel
Flexible, even at low temperature... -30°F to 170°F operating range
Excellent Load-bearing capabilities
Remarkable Sound-dampening/Noise control properties
Simple and Easy to install
For more information about C.U.E.'s Hardliner Polyurethane Sheets call 800-283-4621 or click to contact us.