Polyurethane Rods & Tubes

Polyurethane Rods & Tubes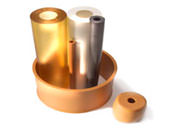 Just like all of our other precision molded urethane products, C.U.E. manufactures the highest-quality urethane rods and tubes to meet our customer's needs; With our existing tooling, C.U.E. casts solid rods as small as ¼" diameter up to 24" and larger, and literally hundreds of O.D. / I.D. tube sizes are also available. We offer quick delivery with competitive pricing. For special size requirements, C.U.E. has the capability to custom mold a rod or tube to your exact size specifications, with custom designed and built tooling.
Applications range from slip-on roll coverings, to spacers and gaskets, to punch strippers, to machined prototype parts.
Availability:
We maintain a large inventory of common lengths, widths and colors and can manufacture custom molded rods and tubes in the size, compound, and color that you request typically being produced and shipped in one to two weeks.
Hardness Range:
Our standard compound range from 45 Shore 'A' durometer to 60 Shore 'D'. 
<<Click for Details
Standard Colors:
While Tan is our primary standard color, Black, Red, White, Yellow, and Natural/Unpigmented are also available. The "Natural/Unpigmented" color typically varies depending on the compound selected, from a translucent honey color to hazy white as the material hardness increases.
FDA Food Handling
Many C.U.E. urethane compounds in their Natural Unpigmented color comply with the requirements of Section #177.1680 of the FDA register for use as a dry food contact surface.
Our WF-80 compound is available on a specialty basis for wet food contact applications.
Fabrication/Machining Guidelines
Our urethanes can be efficiently machined using conventional machine tools and most woodworking tools.  Heavy duty cutting tools must be used due to the friction developed while cutting.
A conventional, high-speed, heavy duty drill is adequate for most drilling requirements.  A sharp standard wood auger bit or a sharp twist drill bit will produce satisfactory results.
A 20 – 80 grit wheel should be used when grinding with a surface speed of 6,000 – 8,000 feet per minute.
For more information about C.U.E.'s Urethane / Polyurethane Rods and Tubes call 800-283-4621 or click to contact us.